PJ Party Planner
Posted by Walter Lyng on Aug 18, 2022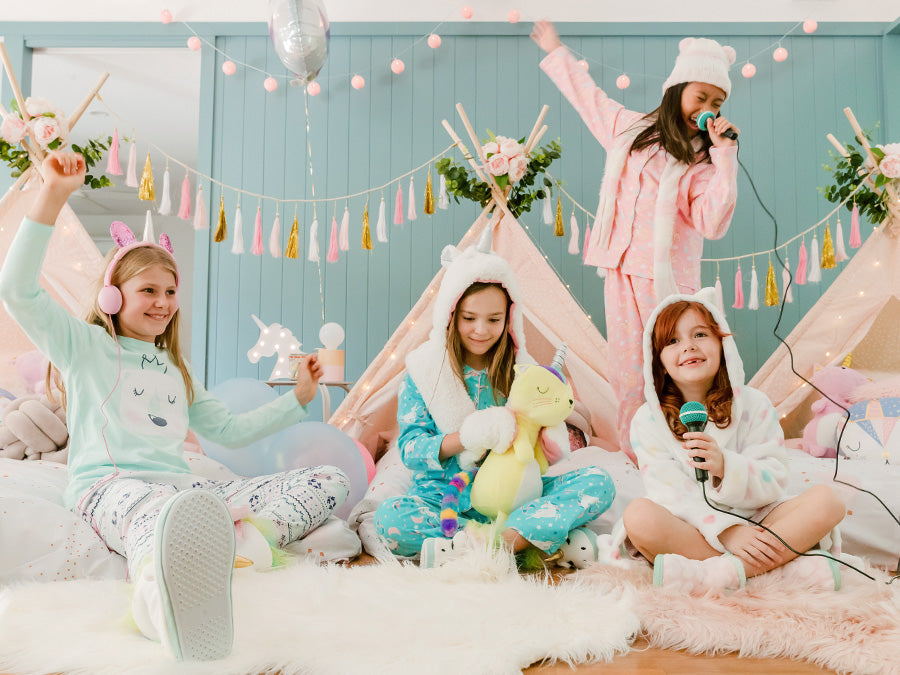 Hosting a sleepover at your place for a bunch of rowdy kids may seem like a daunting task but with a little bit of preparation and organization, you just might be able to get through the night without the riot police showing up. There's lots of options for this kind of event, depending on the age and personality of the kids involved, so we've put together a few general suggestions and tips that should make your sleepover a slumber smash.
DIY Dinner and Dessert
You have 6-8 hours to kill before most of these kids will be snoozing, so make sure the night is well paced. We'd suggest starting with a meal that has a do-it-yourself component so that kids will get properly fed at a leisurely pace. You can set the kids up with all the fixings to make their own pizzas, tacos or burritos, or if the kids are a little bit older and more adventurous, you can even guide them in a sushi-making sesh.
Just make sure that any actual cooking is well-supervised and maybe put the sharp knives away for the night. Once dinner is done, you can move on to DIY desserts with ever-classic s'mores or cupcakes that the guests can decorate themselves.
Cool PJs for Everyone
Sure you can tell the kids to bring their own pajamas with them, but how cool would it be if you had a brand new set for each guest? Whether it's superheroes or princesses that the kids are into, we know just the place that can set you up… and if this is a party for at least three, you're definitely cashing in on free shipping!
Camp in or outdoors
If you're a fan of the great outdoors and a seasoned camper, you can always set up a tent in the backyard for the kids to sleep in if the weather is nice. Otherwise, you can do the next best thing and set up a "virtual" camping experience in the living room with nothing more than sofa cushions, bedsheets and flashlights. It's all the fun of camping outdoors without the rabid raccoon attacks.
Not-too-scary movie
Some kids love the thrill of a scary movie that seems just a little too intense for their age range. The trick is finding something in the PG-13 zone. That way, it will still be suitably spooky for a group of 9-year-olds, but it probably won't have the other parents sending you angry and disapproving DMs. The first Gremlins movie is almost always perfect for this occasion.
Get Crafting
Crafting at a sleepover can be a double-edged sword. While it might eat up a bunch of time, it may also lead to a big mess to clean up. To simplify your life, try introducing a craft that doesn't involve too much glue or glitter like origami or paper plane-making. Or, if you're really ambitious, you can always have the kids help you finish some of those Etsy orders.

Karaoke for Kids
It's easier than ever to organize a karaoke party because of the sheer volume of music videos on YouTube with follow-along lyrics. If you're worried about noise complaints from the neighbors, you don't even have to use speakers or a real microphone. Just set the guests up in a basement if you have one and let them sing their little hearts out into a mixing spoon.
Game Time
This one is general and obvious, but plan ahead for what games the kids might want to play. Bring out a few boardgames that are age-appropriate for all guests or set the kids up with a party game through a gaming console or more traditional means. Just remember that if any game is too long or overly complicated, the kids might lose focus and become bored. Avoid. Bored. Kids. At all costs.
Personalized Pillow Fight
Kids (and a lot of adults) love pillow fights but you don't want your fancy internet pillow getting wrecked, so buy some inexpensive pillows for the occasion and get simple white pillowcases that the kids can decorate and personalize with markers. Then, as you supervise from a safe distance, let the battle begin!
The Legendary Midnight Snack
If the kids stay up late (and they will), they'll probably want something to munch on while they whisper weird jokes to each other you don't get. To avoid too much kitchen calamity in the wee hours of the night, leave out a selection of snacks for the kids to come and help themselves to, or leave out the fixings for a sandwich they can make themselves.
Lights out!
We hope these tips will help you make it to the morning. If you properly execute enough of the above activities, you'll have the kids all tuckered out and, with any luck, you might just get some sleep yourself. Don't forget to treat yourself to some nice PJs while you're at it! Check out our collection!