Pajamas in time: A brief history of sleepwear
Posted by Walter Lyng on Aug 17, 2022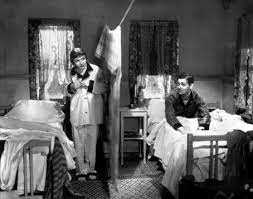 Humans have been wearing pajamas for a long time but sleepwear trends have changed drastically over the years, decades and centuries. Let us now look at some crucially important moments in the PJ timeline. 
150,000 B.C.
Some guy named Adam decides he's tired of sleeping in the buff. His partner, Eve, stitches together some leaves and creates the first-ever boxer-briefs.  
1323 B.C.
Egyptian Pharaoh Tutankhamen is wrapped up in comfy cozy wrapping for a VERY long nap. This may very well be the first documented use of "sleepwear."
80 B.C.
Julius Caesar (and ancient Romans, in general) popularize the whole flowing robe thing, making them the first civilization to wear pajamas during the day. The empire collapsed soon after as the "work-from-home" experiment failed without the existence of a decent wi-fi network. 
1595
Shakespeare pens "A Midsummer Night's Dream" and gives birth to the slumber party theatre genre. Flowing gowns and cozy robes as far as the eye can see. 
1600s
"Mogul's breeches" and "lounge wear" become common place in British fashion. We checked and we're still not sure who or what a Mogul is.
1700s/1800s
Brits "discover" pajamas in India and adopt the clothing. Discovering things is fun.
Early 1800s
The word "pajamas" is used and recorded for the first time in the English language. And we're still debating the spelling.
1870
Pajamas become fashionable for men to wear during the Victorian age . Eat your heart out, powdered wigs.
1926
Hugh Hefner is born and promptly put into a pair of pajamas.
1942
When Bette Davis wore her husband's pajama top as a nightie in the 1942 film Old Acquaintance, it caused a fashion revolution, with I. Magnin & Company selling out of  men's sleepwear the morning after the premiere, all to young women
1969
All we are saying is give PJs a chance... John Lennon and Yoko Ono launch their bed-in for peace initiative and rock some sweet matching pajamas, because, zero wars have been fought in, or about, pajamas. 
2007
In January 2007, the gulf emirate Ras Al Khaimah, UAE introduced a strict dress code for all local government workers forbidding them from wearing pajamas to work. This was not a cozy day. 
2017
Hugh Hefner dies, still wearing pajamas.
2021
The Cozy Shop is launched, offering fun and high-quality sleepwear for families looking to rest, relax and create happy memories together.
Today
You read this article, and then go browse our new arrivals collection – history is made!